Championing the causes of women in finance, technology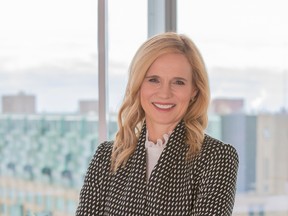 Article content
Sun Life's honourees in the WXN Top 100 Canada's Most Powerful Women are true standouts in their chosen fields. Not only have they powered through the ranks to lead their respective groups, they have also taken on the challenge of building up the representation of women and diverse groups in traditionally male-dominated roles.
Article content
Laura Money, executive vice-president and chief information and technology innovation officer and honouree in the KPMG C-Suite Executives category, is the driving force behind Sun Life's digital transformation. Throughout her career she has shown what it means to be a woman in technology, while also using her position to continually push equity and inclusion efforts across Sun Life's information technology group.
"There are three things that have helped me along my career path ­— family support, mentors and sponsors, and a passion for ongoing learning." She says. "I have been super fortunate to have a supportive family, and a husband who took on the role of primary caregiver — so I could have flexibility and build my career."
Article content
While Money has been used to taking roles outside of her comfort zone, she credits sponsors who took the risk to allow her to do that. Mentorships are not enough, she explains. "Up-and-coming talent needs sponsors. Two sponsors really pushed me into those roles. If they didn't have faith in me and hadn't advocated for me, I may have ended up in a different career."
Her technology and math skills came to her naturally, given her mother was a nursing professor and her father a research scientist. "I grew up with parents who followed a path of continuous learning."
Starting out in her career, she became intrigued by the idea of applying technology to business challenges. While she considers herself fortunate, she is aware that is not every woman's experience in the field. "Early on there were no female CIOs. I hadn't even contemplated the possibility at first. That is why I am really passionate about developing the next generation of leaders."
Article content
She is encouraged to see that times have changed for women in technology. "Only 15 per cent of women were in my first engineering class. Now I see an enormous number of women in engineering, sometimes up to 50 per cent. But I never saw women CIOs."
Money often relates the story of when her daughter asked her how different it was for her growing up. "I pointed out there were not that many role models. For my mother there were even fewer; and for my grandmother, her only options were nursing, teaching or secretarial work. They were incredibly accomplished women despite that."
While much has been accomplished for women in technology, more needs to be done, says Money. "It really does go back to the power of representation. If you see a woman in a particular role, the more likely other women will believe that's a possibility. They can be the person you write to, engage with, can coach you, and give
advice."
Article content
A love of learning and developing others is also crucial, she adds. "I spend a lot of my time talking to my team about developing our talent and keeping it, and encouraging continuous learning. I commit to two hours a week of learning and talk about it a lot so that others are encouraged, too. It's such an important topic in tech.
"What I really love is when team members are working together to develop learning experiences. I am always asking myself how I can enable team members to achieve their goals versus telling them to go out and achieve them."
One practice she has introduced is inviting junior employees to management team meetings. "They can get insight into what senior executive tech teams talk about and how they make decisions. It gives younger employees a perspective on what's important and helps executives see what is happening on the ground. I am always pushing to promote diversity in all its forms at Sun Life."
Article content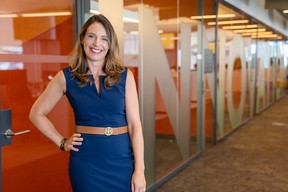 Oricia Smith, president of SLGI Asset Management Inc. and senior vice-president, investment solutions, for Sun Life Canada, is a 2022 honouree in the Executive Leaders category. She is responsible for developing a unique platform for the company's asset management and wealth management products and services.
As the first female president of Sun Life Global Investments, Smith is responsible for the development, management and growth of the organization. With her strong focus on supporting advisors and clients, Smith continues to invest in innovation that makes it easier for advisors to do business and grow their business, as well as create more personalized experiences.
One particular area that she is focusing on is supporting and developing female advisors within the investment industry. "Right now, only 18 per cent of financial advisors are female. I want to increase their numbers. We have to reflect the communities we serve."
Article content
Bringing more women to the table is critical given that women tend to be underserved in the financial planning industry, she says. "There are two things that make women unique clients: first, they have longer life expectancies; second, they are part of the gender wage gap. Women in Canada who participate in workplace-sponsored retirement savings programs save less, retiring with 30 per cent less than men. So they potentially have fewer savings and experience a reduced standard of living. Advisors can play an extraordinary role in breaking gender biases."
At the same time, women have more money and influence than ever before, she adds. "By 2028 they will control $4 trillion in assets. Women are breadwinners in more than 40 per cent of Canadian households. All of which means women can play a very powerful role in our industry. We need more female investors, financial advisors or at least offer training on understanding the needs of female investors."
Article content
Smith is working with female industry peers outside of and within Sun Life to empower, educate and inspire the next generation of women leaders. "As a role model in the industry, I like to mentor as well as sponsor women in the hopes that they can learn from me and my experiences. If I can influence the next generation of workers, then I can say to myself I have done a good job."
Smith volunteers with Sun Life's Experience Leadership program, sponsoring high-performing individuals to accelerate their growth and development. She has also mentored female employees through the InvestHer Women's Network.
In addition, Smith serves as a spokesperson for the business's Women's Investment Community, where she works to break inherent bias and help support females in a traditionally male-dominated industry. She has also spearheaded initiatives such as the Sun Life Global Investments LiveBright scholarship program that focuses on gender diversity, particularly in asset management.
Article content
The one important piece of advice Smith often shares is making sure that the next generation of leaders understand that relationships have value. "Being genuine and building a network will benefit women personally and in their careers. Building relationships and having the confidence to ask questions are the two key things in driving a career and adding value. Remember that asking questions is not a sign of weakness. Sometimes the simplest of questions can lead to the best insights."
She believes leaders must also step forward and be open with their teams and their organizations. "Leaders cannot be silent on the hard topics. You have to be vocal. When you lead a business, you have the power to affect change and society to do the right thing for your clients and communities."
This section was created by Content Works, Postmedia's Commercial Content Division, on behalf of Women's Executive Network (WXN). 
link