Experts decry Dell's move away from Chinese chips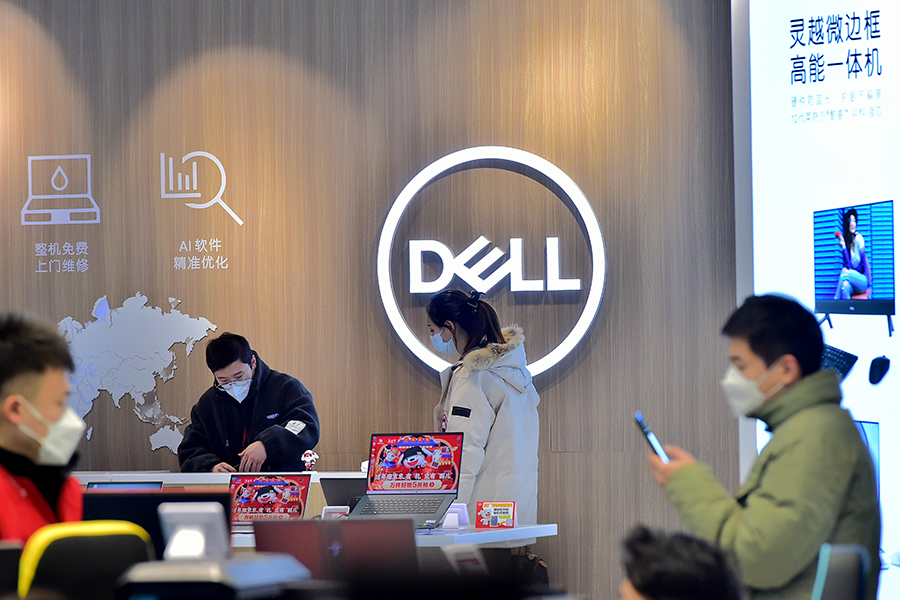 The reported decision of Dell Technologies, a US-based personal computer maker, to replace all semiconductors made in China from its products by 2024, will only weaken the solid ecosystem the company had assiduously built in China over the last several decades and also erode Dell"s global competitiveness, given China's irreplaceable role in the global consumer electronics chain, experts said.
The comments were made after Nikkei Asia reported that Dell has told suppliers to reduce the amount of chips and other made-in-China components in its products. Personal computer maker HP Inc, one of Dell's rivals, has also started surveying its suppliers to gauge the feasibility of moving production and assembly away from the country, the report said.
"Dell's current production largely relies on China's supply chain. It would be very difficult for the company to find an alternative in the short term," said Xiang Ligang, director-general of the Information Consumption Alliance, a telecom industry association.
Xiang said that the PC is not a product with a large profit margin, thus production costs matter, especially when chips made in China are generally cheaper. "Forcing itself to find an alternative is very likely to injure Dell's production. If supply becomes insufficient, it will be unfavorable to the company's development and lead to damage to its competitiveness," he added.
While emphasizing China's importance as a major market, Dell said in a statement that it was committed to pursuing global supply chain diversification to best meet customers' and partners' needs and expectations.
Wu Dongmei, global senior vice-president of Dell, said in an interview with China Daily in November that "Dell doesn't just have a sales office in China" and the company's development in the country is based on "long-term consideration".
"Dell has a full value chain here from design, research and development, production, manufacturing, supply chain management, sales and services that support the development of the company's business in China and globally," Wu said.
"We became very focused in China once Dell decided to operate in the country," Wu told China Daily. "In fact, we have done assessments and many conditions in the Chinese market are basically better than other places."
According to a report by market consultancy Canalys, Dell was the second-largest PC vendor in China in the third quarter last year with a market share of 11.7 percent, following Lenovo Group with 38.2 percent.
"As China's economy continues to stabilize this year, the surging domestic demand will continue to drive it to be a market that no tech giant wants to lose. Dell's reported decision will also lead to the loss of its business in the country including cloud computing," said Wang Peng, a researcher at the Beijing Academy of Social Sciences.
"China also has great advantages in the global consumer electronics chain for its efficient cooperation of multiple manufacturing steps, including raw material supply and mold design to final assembly," Wang said.
Yao Jun, deputy head of the planning department at the Ministry of Industry and Information Technology, said though some foreign-funded enterprises are diversifying their business layouts, the overall pace of foreign investment in China has not slowed and manufacturing remains a key sector for foreign investment in the country.
link