Motorola (MSI) Avigilon Video Solution Gets JITC Certification
Motorola Solutions, Inc. MSI recently announced that it has secured the Joint Interoperability Test Command (JITC) certification from the U.S. Defense Information Systems Agency for its Avigilon video security solutions. The accreditation validates the quality of its video security products and strengthens its leading position in the market.
Based on rigorous interoperability testing from a JITC lab approved by the Department of Defense, the risk-based test and evaluation ensure that the certified products adhere to high-quality information technology standards that are interoperable and support mission-critical needs.
Motorola's Federal Information Processing Standards-compliant video security and physical access control systems offer an end-to-end unified solution that meets the stringent privacy and security standards of the federal government. Leveraging real-time video analytics to increase the productivity of security personnel, the products facilitate effective monitoring to combat attention fatigue and resource constraints. This helps to secure people, assets and facilities spanning large perimeters of sensitive and high-security areas.
As one of the top providers of mission-critical communication products and services, Motorola has ensured a steady revenue stream from this niche market. This communications equipment maker intends to augment its position in the public safety domain by entering into alliances with other players in the ecosystem. It is poised to benefit from organic growth and acquisition initiatives, disciplined capital deployment and a favorable global macroeconomic environment.
Moving forward, Motorola expects to witness strong demand across land mobile radio products, services and software. These systems drive demand for additional device sales and promote software upgrades and infrastructure expansion. The comprehensive suite of services ensures continuity and reduces risks related to critical communications operations.
The stock has lost 3.3% over the past year, while the industry has declined 31.7%.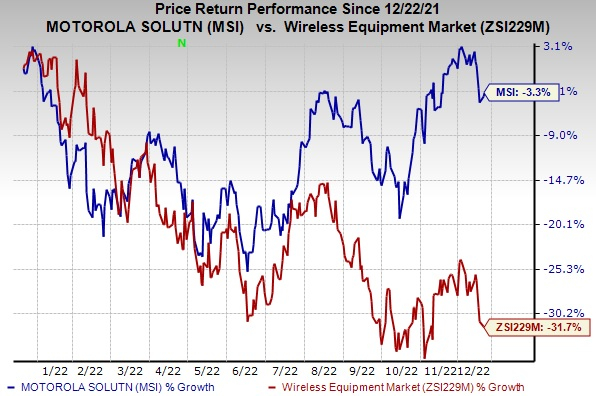 Image Source: Zacks Investment Research
Motorola currently carries a Zacks Rank #3 (Hold).
You can see the complete list of today's Zacks #1 Rank (Strong Buy) stocks here.
TESSCO Technologies Incorporated TESS, sporting a Zacks Rank #1, delivered an earnings surprise of 126.1%, on average, in the trailing four quarters. Earnings estimates for TESSCO for the current year have moved up 44.3% since December 2021.
TESSCO offers products to the industry's top manufacturers in mobile communications, Wi-Fi, wireless backhaul and related products. With more than three decades of experience, it delivers complete end-to-end solutions to the wireless industry.
Harmonic Inc. HLIT, carrying a Zacks Rank #2 (Buy), delivered an earnings surprise of 55.5%, on average, in the trailing four quarters. Earnings estimates for Harmonic for the current year have moved up 48.6% since March 2021.
Harmonic provides video delivery software, products, system solutions and services worldwide. With more than three decades of experience, it has revolutionized cable access networking via the industry's first virtualized cable access solution, enabling cable operators to more flexibly deploy gigabit Internet service to consumers' homes and mobile devices.
AudioCodes Ltd. AUDC, sporting a Zacks Rank #1, is likely to benefit from the secular tailwinds related to IP-based communications. Incorporated in 1992 and headquartered in Lod, Israel, it offers advanced communications software, products and productivity solutions for the digital workplace. It has a long-term earnings growth expectation of 9%.
AudioCodes aims to leverage its long-term partnership with Microsoft to further strengthen its market position. It is also likely to benefit from its continued focus on high-margin businesses.
Zacks Names "Single Best Pick to Double"
From thousands of stocks, 5 Zacks experts each have chosen their favorite to skyrocket +100% or more in months to come. From those 5, Director of Research Sheraz Mian hand-picks one to have the most explosive upside of all.
It's a little-known chemical company that's up 65% over last year, yet still dirt cheap. With unrelenting demand, soaring 2022 earnings estimates, and $1.5 billion for repurchasing shares, retail investors could jump in at any time.
This company could rival or surpass other recent Zacks' Stocks Set to Double like Boston Beer Company which shot up +143.0% in little more than 9 months and NVIDIA which boomed +175.9% in one year.
Free: See Our Top Stock And 4 Runners Up
Want the latest recommendations from Zacks Investment Research? Today, you can download 7 Best Stocks for the Next 30 Days. Click to get this free report
Harmonic Inc. (HLIT) : Free Stock Analysis Report
Motorola Solutions, Inc. (MSI) : Free Stock Analysis Report
AudioCodes Ltd. (AUDC) : Free Stock Analysis Report
TESSCO Technologies Incorporated (TESS) : Free Stock Analysis Report
To read this article on Zacks.com click here.
The views and opinions expressed herein are the views and opinions of the author and do not necessarily reflect those of Nasdaq, Inc.
link