Wanted: The talent of tomorrow for Alberta's tech sector
The province is seeing increased demand for tech-savvy employees who can work in industries such as energy, financial services, health care and more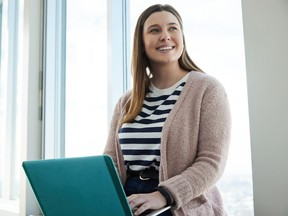 Article content
Benjamin Maxwell is the first to admit that in high school, he wasn't much of a "techy" person.
Article content
So, it came as somewhat of a surprise to friends when he enrolled in the School for Advanced Digital Technology (SADT) at the Southern Alberta Institute of Technology (SAIT).
His post-secondary experience proved to be even more of a revelation, even to himself: he loved it. Having graduated in 2021, majoring in Information Technology Computer Systems, Maxwell now works as SAIT's acting supervisor, service desk, information technology services. The role entails everything from resolving IT issues to training the department's analysts.
He has come full circle, supporting students through his work just as SAIT supported him when he was a student. "I love being able to give students here that same positive experience I had," Maxwell says.
Article content
Alberta is expected to see exponential employment gains in the coming years. Growth is predicted in industries including (but certainly not limited to) financial technology, health tech, clean technology and agricultural technology, according to recent reports. The provincial government's Alberta Technology and Innovation Strategy also calls for an additional 20,000 new tech jobs by 2030.
To be ready, more people like Maxwell are working to hone future-proof skills.
When he reflects on his choice to study at SADT, Maxwell says he had his future in mind.
"I knew from other jobs in the past, like retail positions, that I enjoy serving others, but I also knew IT was much more of a secure thing," Maxwell says. "I knew that tech was going to blow up in Alberta. I want to be able to provide for my family when I have kids."
Article content
Institutions such as SAIT are helping students acquire the necessary skills to succeed in tech-driven roles. The polytechnic offers cutting-edge, applied-learning opportunities in everything from cyber-security analysis and interactive design to software and web development.
SAIT's School for Advanced Digital Technology was established in 2020 with a renewed focus, thanks to a transformative $30-million donation from philanthropist and entrepreneur David Bissett, Member of the Order of Canada.
Maxwell credits the school's hands-on approach for helping him connect theory with the practical. Consider the subject of cyber-attacks: "In our lab classes, we would get to perform these attacks on servers in a virtual environment to understand how to stop those attacks or prevent them," Maxwell says. "Being able to see and do this myself really helped me understand the theory portion of the class."
Article content
"At SAIT, you get to see things in real life," he adds. "This program really teaches you how to improve your problem-solving skills, which are so important for the IT industry."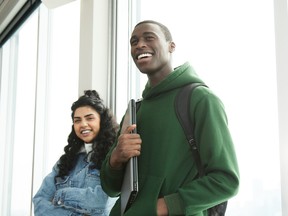 Maxwell's group capstone project grew out of study sessions at a nearby food court. He noticed that a Vietnamese sub shop did everything by hand, from orders to payments; nothing was automated. Maxwell suggested creating such a system to help drive efficiency, which included developing a fully functioning website and implementing IT security practices using skills he had learned at SADT. "The capstone project really helped me get a deeper understanding of what teamwork looks like within the IT industry," Maxwell says.
The school's programming is developed in lockstep with industry; senior business leaders are consulted to ensure the curriculum aligns with industry realities. This means that SADT's educational offerings align with the skillsets those ventures are looking for to flourish.
Article content
SADT Dean, Dr. Raynie Wood, can attest to the importance of leaning in even closer to work with their partners in industry.
"Employers and organizations are coming to Alberta and looking to Calgary for the talent that they need in order to be successful," Wood says. "All of our programs are designed in partnership with industry. Who knows better than the people who are hiring our grads?"
Toward the end of his program, Maxwell undertook a work-integrated learning experience, during which he interned in IT operations and support at the Alberta Electric System Operator (AESO) for 10 months. "Being an intern was a huge benefit to me because it gave me a taste of what the industry is like," Maxwell says. "I felt ready to enter the working world because of that real-world experience."
Article content
Among the many organizations that have hired SADT graduates are City of Calgary, Shaw Communications, Suncor, Morgan Stanley, Corus Entertainment, Bell Media and WestJet.
Denise Man is chief technology officer at Alberta Investment Management Corporation (AIMCo) and a member of the SADT's Dean's Advisory, with a focus on SADT's strategic alignment with the future of workforce needs. She extols SADT's role in equipping the future workforce with the foundational skills necessary to thrive, and in ensuring no one is left behind in the workforce evolution.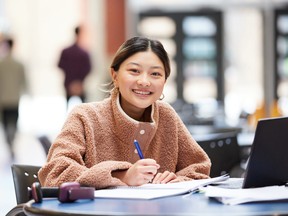 "With the working population shrinking over the coming decades, this need for these technologically proficient individuals is greater than ever," Man says.
Article content
"At AIMCo, we recognize that everything we do, in service of our clients, is underpinned by technology," Man adds. "Running over $150 billion in assets isn't achievable without data, models, systems, automations, cyber defences, risk controls, insights coupled with communication, collaboration and teamwork. These skills take shape at a young age and are augmented with the education and skills we acquire throughout our lifetime. SADT understands the importance of this and continues to work to build the best possible future for our community."
This collaboration between industry and institution ensures that new talent has the foundational skills to succeed in the future — skills that will help Alberta grow into the tech leader it's poised to become.
"We're moving forward together," Wood says, "and we're excited about it."
This story was created by Content Works, Postmedia's commercial content division, on behalf of SAIT (Southern Alberta Institute of Technology).
link